A global analysis of the local environment allowing for social, environmental and economic performances can raise future and improving the quality of life in the long term.
(Barcelona, May 23) Aimed at Environmental Technical Industries, this course allows for a single day to give the necessary keys to perform good environmental management.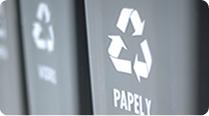 Showing a drawing and original message the benefits flowing to a different performance standard where creativity and design suited to clarify the ideas to be transmitted.
Reparado mejor que nuevo, una idea innovadora
The "Reparat millor that nou" is funded by the Environmental Authority of the Metropolitan Area of Barcelona, the Catalan Waste Agency and the Government of Catalonia.
The main objective is to provide all citizens of the 36 municipalities in the metropolitan area of ​​Barcelona the chance to learn to extend the life of objects and devices through the repair and / or restoration, contributing to the reduction of waste and impacts on the environment and encouraging savings.